Since 1993, a four-monthly journal on educational technology
The Italian Journal of Educational Technology (IJET) (formerly TD Tecnologie Didattiche) is a refereed, open access journal that publishes theoretical perspectives, review articles, methodological developments, empirical research and best practice in the field of education and technology. The journal targets scholars and practitioners and welcomes contributions on any aspect of technology-enhanced learning in formal, non-formal and informal learning contexts, from early years through to technical, vocational and higher education, professional development and corporate training, in any subject domain.
All contents of the Italian Journal of Educational Technology (IJET) are licensed under a Creative Commons Attribution-NonCommercial 4.0 International License. Readers have free online access to the contents of all issues of the journal.
A print edition of IJET is also available for purchase, either on a subscription or single issue basis. Please go to "Subscriptions" to read more.
TD Tecnologie Didattiche (now Italian Journal of Educational Technology) has been recognised as Classe A journal in assessment carried out by ANVUR, the agency designated by Italy's Ministry of Education and Research for evaluating research institutions and scientific output. Keep reading in About.
TOPICS
Topics covered concerns any aspect of educational technology, including:
Theoretical aspects of educational technology and technology-enhanced learning
Innovative learning environments
Open and online education
Collaborative learning
Design of learning environments
Evaluation and assessment
Mobile technologies and social media
Game-based learning
Formal, non-formal and informal learning
Digital literacy
Technology for inclusive learning
Digital contents and educational resources
Research methods in educational technology
Policies for innovation in educational systems
PEER REVIEW POLICY
Manuscripts undergo a double-blind peer review process involving at least two reviewers and the editor of each issue. In 2016 the rejection rate was 36%.
2017-08-01
Deadline: June 15th, 2019
Vol 27 No 1 (2019): Technologies as assessment change agents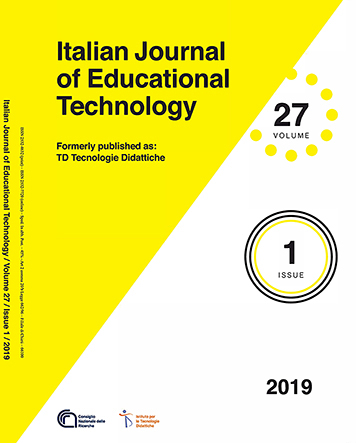 This is the second of two IJET special issues devoted to the relationship between technology and assessment. In the previous editorial (IJET, vol.26, n.3) we highlighted the relative lack of research investigating the relationship between assessment and technology. Hence, the aim of these two issues is to fill the gap by promoting reflection on the technology-assessment relationship and by fostering debate, discussion and sharing of ideas amongst researchers and practitioners.
Published: 2019-04-01
View All Issues